Your QR and NFC digital business card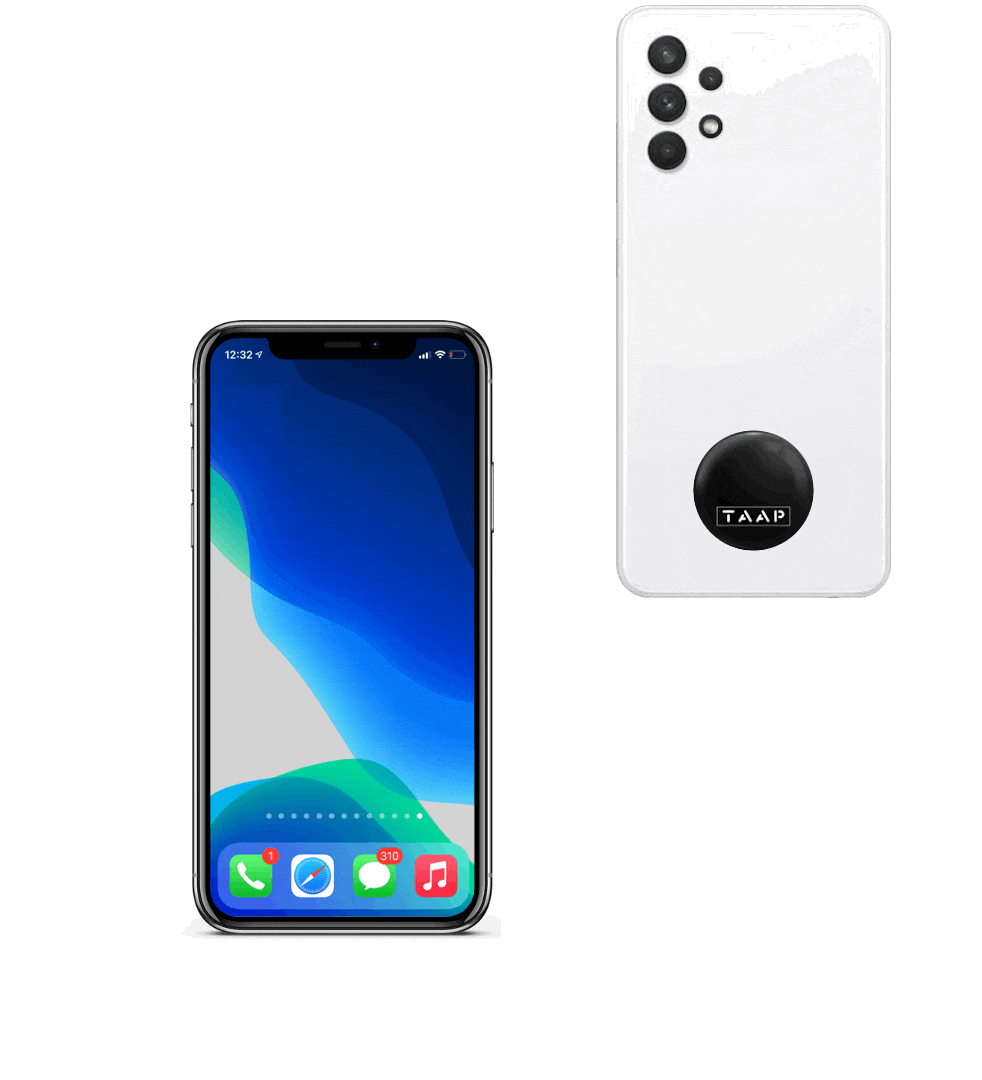 Get more connections. Impress your leads. Get more sales.
Works with QR and contactless (NFC) technologies.
Share and receive cards without using paper
No app required to share or receive
No extra hardware needed to receive the info, just your phone
Companies we've worked with
1.

Buy your contactless Taap

We ship worldwide. Estimated delivery time is 1 week to any country.
2.

Create your digital business card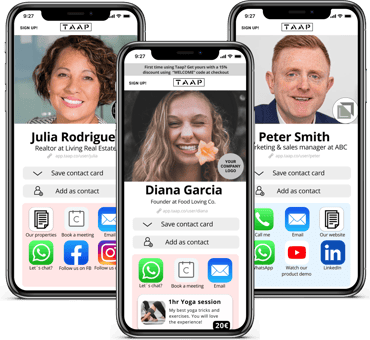 Use our free web application to customize your cards. Make it yours.
Pro version with additional features available.
3.

Share your digital business card

Impress anyone you meet! Start seamlessly sharing!

Others do not need a Taap or an app to receive your information
Turn

handshakes into meaningful connections.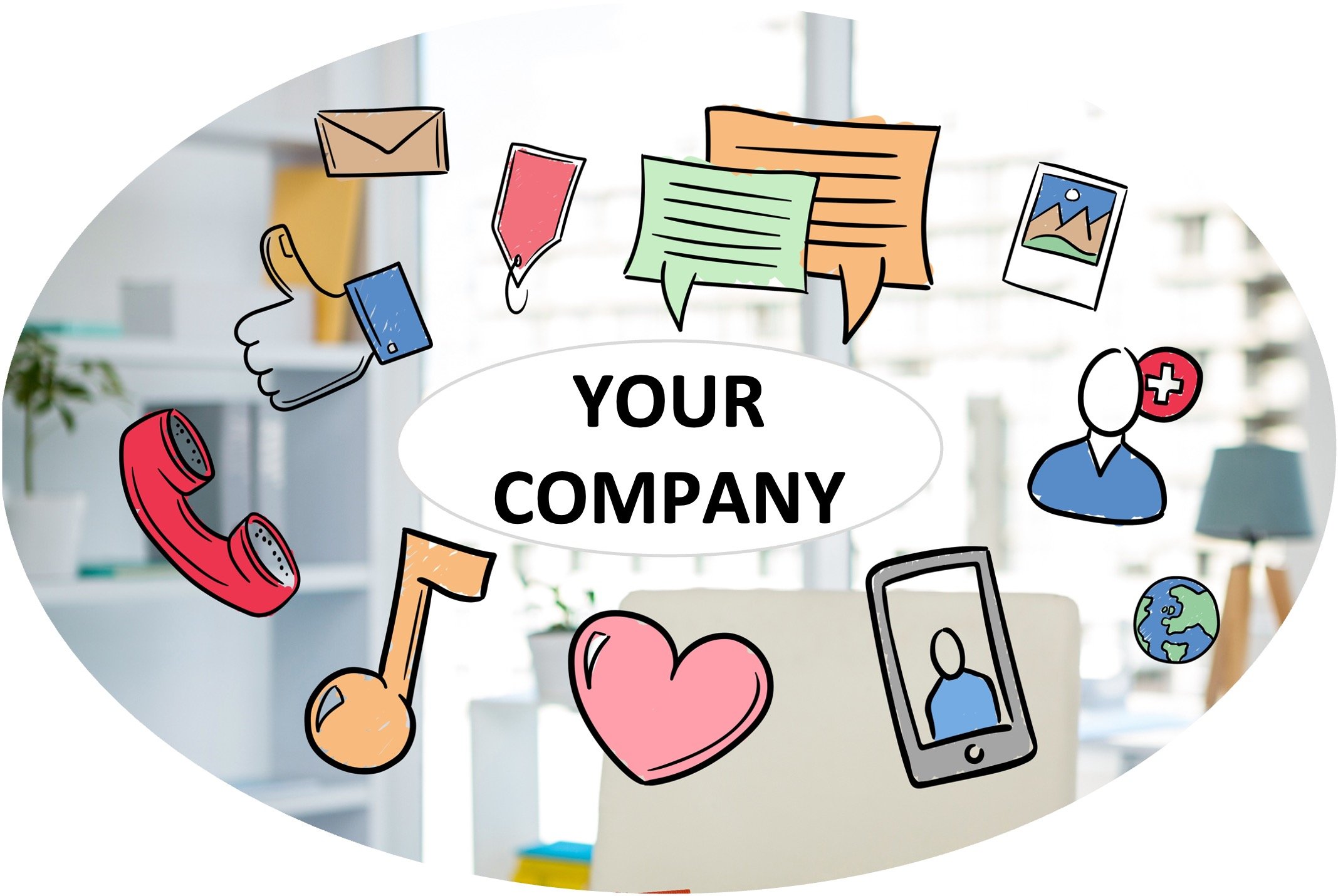 Unleash the potential of digital business cards
You have a website with tons of links to products, inventory, social media, testimonials and a million other things. Why are you limiting the information you share to name, email, and phone number?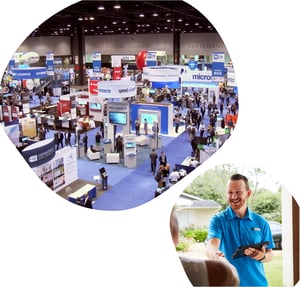 Impress your target clients
Investing a lot of money on events and marketing is worthless without converting new leads to sales.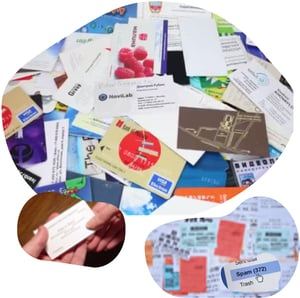 Update. Do not rely on paper business cards
Your modern company deserves much more than just using outdated tools from the last century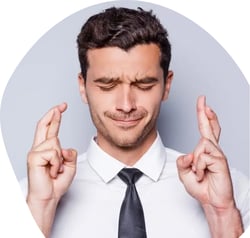 Do not just wait for clients to come
Your business card is a much more powerful tool than just giving away 500 pieces of paper and then wait for leads to come
According to research, 9 out of10 business cards or flyers end up not used, lost or in the trash...
Engage with ALL of your target accounts, not just with 10% of them
With paper business cards only 10% or less of your target accounts are reconnecting back

Upgrade your business with Taap digital business card
Easily create, update and share your digital business cards
Manage your contacts and export them to your CRM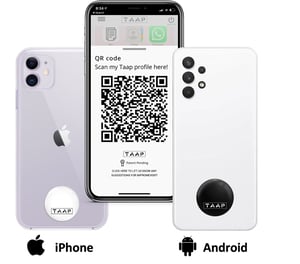 FEATURES
How does Taap work?
Want to discover the full potential of Taap? Click on the button below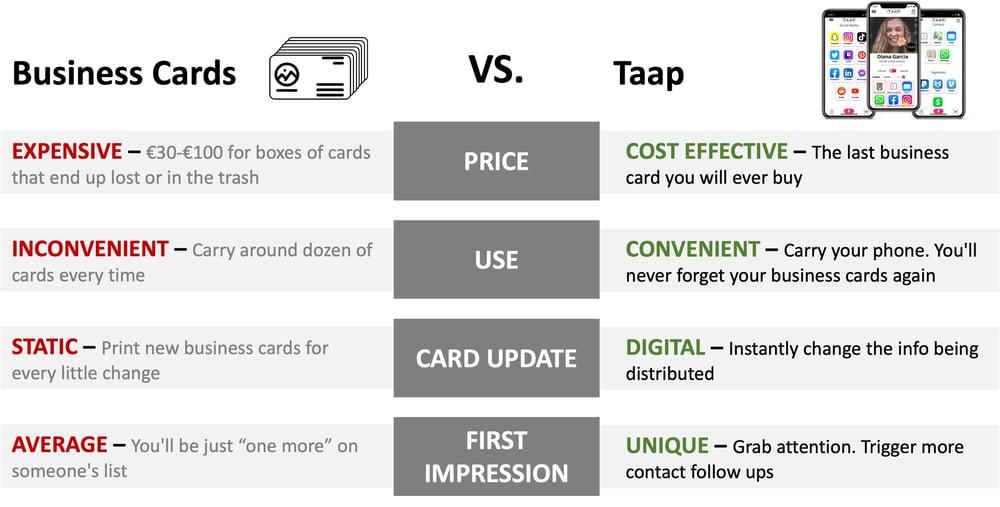 What you can share with Taap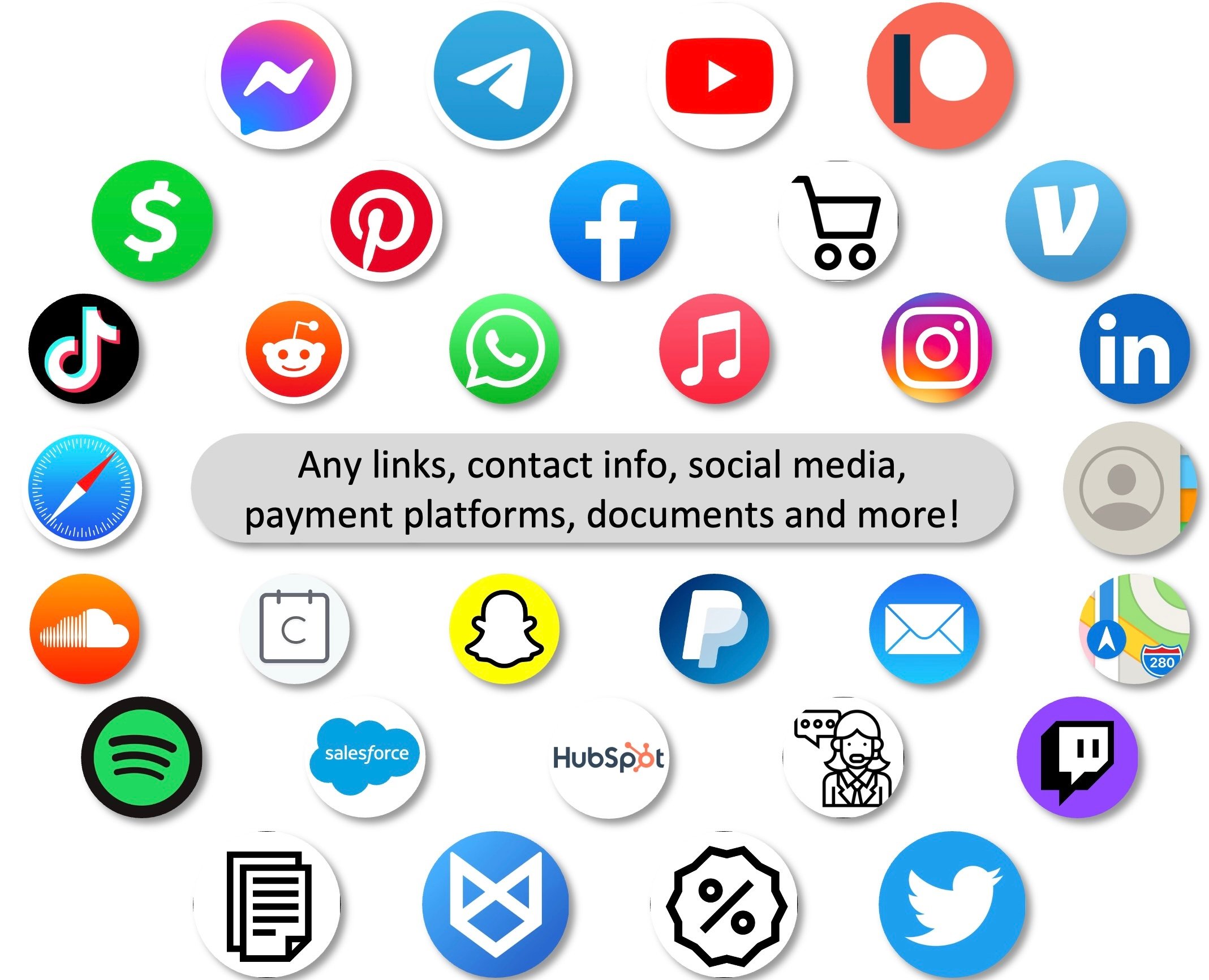 Businesses use Taap to share their:
Contact information (to

get more leads and sales

)
Websites (to

increase web traffic

)
Forms (to

share surveys for customer feedback

)
Social media (to

get followers and engagement

)
Promotions and discounts
Payment links
Files; and
Any other information that is on the internet
TESTIMONIALS
What our customers say
"Taap is a highly effective business card for people seeking effectiveness on what they are doing and want to convey that."
"Very easy to use and shares my contact information in seconds. The best part is the impact I make on the people I meet, they always follow up with me and talk about Taap as an ice-breaker."
"At first I was reluctant on changing our paper business cards to some sort of tech I didn´t see before. But this has been a game changer, we increased our pool of leads and website traffic thanks to Taap."
"This is brilliant! We spent so much time and money updating and printing business cards for our team, with Taap you update the info and share it in seconds!."
CASE STUDIES
Few examples of our success stories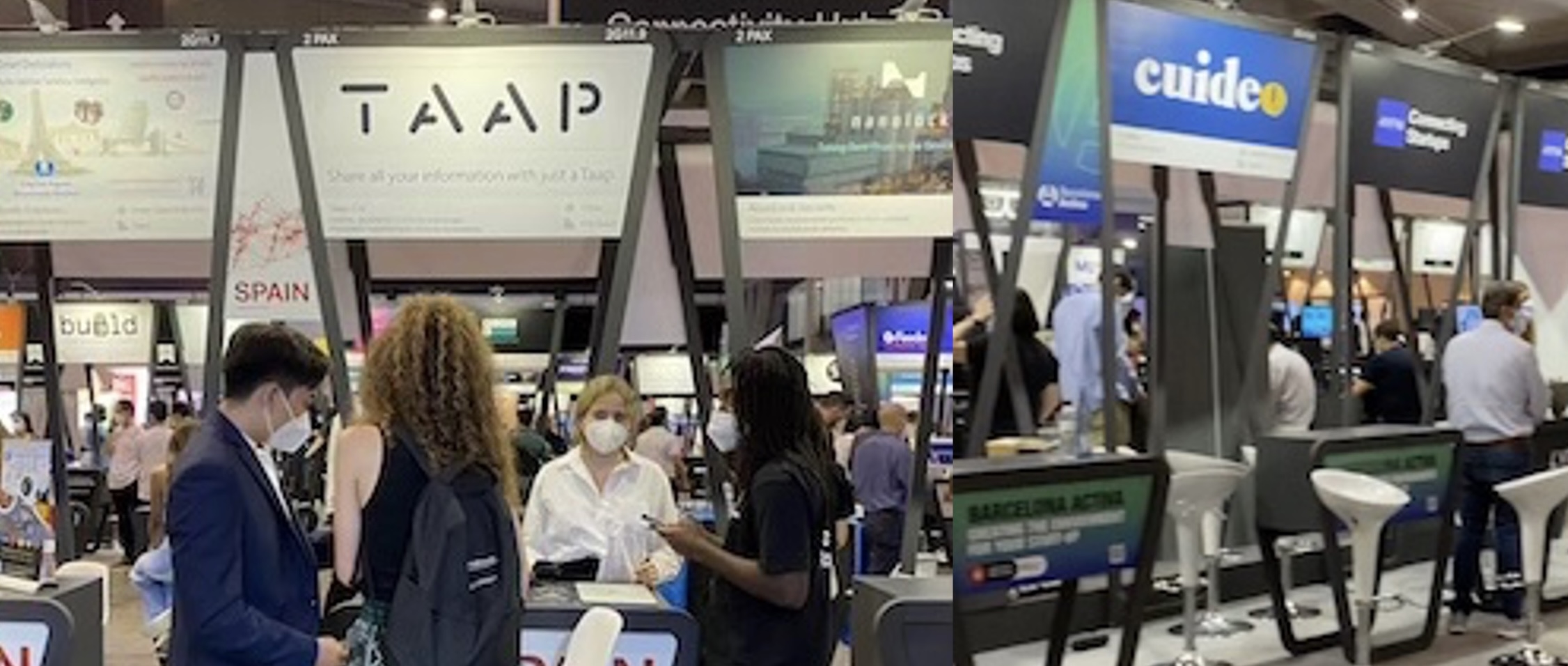 SITUATION
For years, a large B2B chemical company attended multiple trade shows in order to get sales leads
They used to exchange paper business cards and then fill out a paper form after the conversation for the sales department to follow up afterwards
COMPLICATION
Lead information didn't flow directly to sales departments after the event. Even some business cards and paper notes got lost
Sales team complained about lead quality and the lack of lead information
Marketing team got frustrated because they put so much effort on trade shows but

struggled to prove event ROI

– given there was no track on all leads generated and their conversion to sales
SOLUTION
Taap helped to digitalize their entire business card sharing, lead capturing and lead engagement process

(i) grabbed more attention and interest from leads
(ii) teams at the event where able to share all their info at once
(iii) follow up teams were able to instantly get lead contact info

The result: Client increased lead acquisition by 70% vs. last year, which led to a 30% sales increase from leads they engaged on that event vs. last year

SITUATION
Segur Caixa Adelas, one of the largest Insurance and Financial Institutions in Europe, wanted to get more information of their customers to further understand them so that they can cross-sell them other products
They wanted to launch proximity marketing campaigns at their branches utilizing the large group of clients swinging by each branch every day
COMPLICATION
Poor engagement and traffic on the websites they built for that purpose
Little visibility on campaign analytics (e.g., number of clicks) making it hard to prove campaign ROI.
Overall, weak communication channels to execute the campaigns:


Written notes and static QR codes used to collect customer information
Paper business cards to share contact information with potential clients
SOLUTION
Segur Caixa Adeslas added Taap contactless (NFC) and QR cards in 50+ branches throughout Spain
Landing page traffic increased vs. previous campaigns without Taap - it was easier to open the URL with a Taap, and some customers just wanted to see how this technology works
As a result, more customers submitted their information, thus,

Segur Caixa Adeslas

earned more leads eager to buy new products
Taap analytics gave them the ability to see which branches, content and dates were driving most of the traffic, so that they can dedicate more resources on the top performing segments
FAQ
Need clarification?
Click on the button below or see the "about Taap" section to check out more details of Taap
Join the Taap family
Subscribe to get notified on new product launches and discounts only for our members!